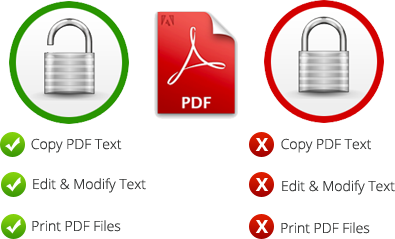 PDF1

PDF LOCK UNLOCK SOLUTION
Single Solution to 2 major problems
Add Users password as well as Owner password protection to PDF
Remove Editing, Printing & Copying restrictions from Adobe PDF files
Dual Functions 1 tool...
Lock PDF Files
Now easily add protection to your PDF documents with this tool. You can put User/Open Password if you want to restrict others from opening your document. To restrict others from editing, copying & printing the document, apply Owner Password. You can lock Adobe PDF by jointly applying both protections also.
Unlock PDF Files
If you find yourself with PDF files that restricts edit, copy & print PDF files, that means it is owner password protected. With this tool it will be possible for you to unlock PDF file and remove editing, printing & copying restrictions without any problem. Use the tool to remove PDF lock & get permission to do all the mentioned tasks.
PDF Unlock & Lock – Top Features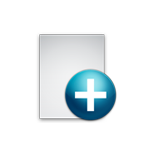 Create NEW .pdf file
The best thing about this program is that it does not make any changes to the original or source file. It keeps them intact; create a new copy of the PDF files & then apply or remove protection from them. This way you get to keep files in both forms. So, it's a Win-Win situation for you.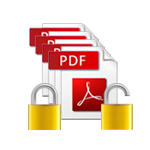 Batch Mode Functionality
If there are only few files which you have, then you can go with the single mode function. But, if you have large number of files then simply go for the batch mode option that will let you add or remove protection to all PDF file at once. This will help you save more time.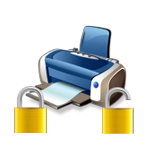 Lock & Unlock PDF Printing
Do not want others to take printout of your data then protect it with owner password printing restriction. But, if you are getting the message "Printing Not Allow" then remove the printing protection with the same tools Unlock PDF facility.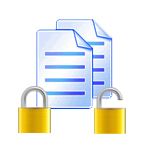 Lock & Unlock PDF Copying
Fed up of plagiarism then restrict text copying of your documents simply by applying copying restriction. But if you are not able to copy important data from a PDF file due to restriction then you can also remove that with the tool.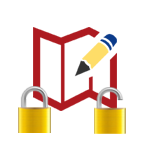 Unlock & Lock PDF Editing
If PDF Editor is failing to make the changes to the PDF, then use the PDF Unlock tool to remove the editing restriction and do the needed changes without any problem. Likewise, you can also stop others from making changes to your file by using PDF1 tool and lock data editing.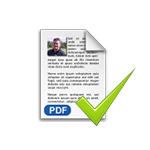 Maintains the Layout of files
The software also ensures that it does no harm to the layout of your documents. A PDF can have images, links & many sort of formatting like- Color, Font, Bold, Italic, Underline, etc. And this software maintains all of this as it is, without any changes without any hampering.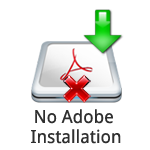 No Requirement for Adobe Reader
You will not be needing to have Adobe Acrobat Reader installed in your machine at the time of using the software for PDF unlock, lock process. But, you will need it to open or read the PDF files afterwards.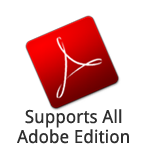 All Adobe Versions Supported
You can Lock & Unlock PDF files created in any Adobe Version up to 11.0 Edition. And to read the files after performing task you can use any Adobe Version.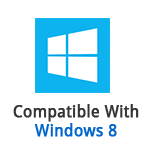 All Windows OS Supported
With this software user can work in any Windows OS and perform PDF unlock lock task, without any issue. Recently we upgraded it to support Windows 10 & it works well with Win 8.1, 8, 7, XP, 98, 97, etc.
PDF Lock & Unlock in Screenshots
Have a look at the working screen of the software. For complete working, Visit Guide Page.
Learn More...
PDF files security is very important, as it is the mostly used format for sharing & distribution of data. PDF1 Solution, with PDF Lock Unlock services, comes much recommended, as it provides both services to add protection to PDF & remove protection from PDF files. With this tool you can add open, editing, copying & printing restriction to your PDF file & this tool also let you remove the edit, print & copy restriction from PDF files.
Trial is very useful for you to know more about the software, we always suggest our clients to try it first and know both the functionalities about how to lock pdf file and how to unlock a locked pdf document. But it has some restrictions. It locks all PDF files with "1234" password only & does not allow to add owner password restriction. And in unlocking mode, it only removes restriction from 2 pages of PDF.
If you think the PDF Unlock Lock works perfectly for you then you must purchase the LICENSE Edition of PDF Lock Unlock Tool, as you can use it any time you need & it does not have any restrictions at all.
FREQUENTLY ASKED QUESTIONS
HAVE QUERIES ?
No, it will not remove user password protection. It can only Unlock PDF owner password protection.
Yes, but you will have to provide the user password first then it will remove owner password protection from files.
Yes, we recently upgraded our software to accommodate Windows 10 & it works perfectly in both modes : lock PDF and unlock a locked PDF file in windows 10 and all earlier versions too.